A hodgepodge of news items:
ADOPTION NEWS:
If you came here looking for "We get to go bring C home next week!" you have come to the wrong place (at least on the wrong day). We still have about 5-16 months before that announcement. However, I am hopeful that we get news of passing court soon, and news out of DR Congo suggests that the issuance of Exit Letters, which permit adopted children to leave DRC with their families,
may
resume sooner rather than later. (Prayers...prayers....prayers...)
We did, however, get new pics of C last Friday (on Valentine's Day...how perfect!). She looks so stinkin' big now, and she is clearly being fed well. Her ears are pierced, which I think is adorable (and, honestly, I am glad I didn't have to do it). She appears to be a very happy and healthy girl who is well-liked by the other kids in her foster home. I can hardly wait to hold her and hear her little giggle!
AND:
We also got some great news Monday: We received a grant from JSC Foundation! According to my calculations, this puts us right around $10,000 left until the adoption is fully funded. That is, unless one of us travels to file paperwork in DRC, which will possibly speed along the adoption process, but will certainly make it cost more!
So THANK YOU JSC FOUNDATION! You have taken another stressor off our plates.
ALSO:
THE famous
Imara
was at our house last Saturday night for a fish fry. The girl loves fish, has an amazing little giggle, and a great family of people who care for her deeply and are working to create stability in her life. Praise God for miracles in all sizes, shapes and colors! (This pic represents about 3/4 of the kids who were at our house that night. CRAZY!!)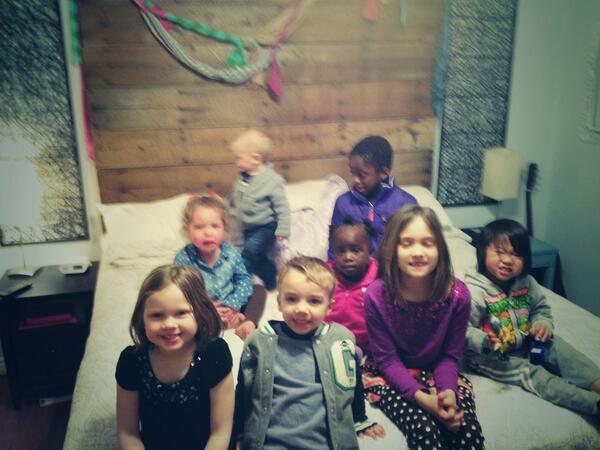 ALSO:
Lookie who made it to the news last night
(In case you need a hint, it's
Generation Next
, which I
wrote about Monday
.)
(Picture from KY3. Find their whole story here.)
That's cool stuff!!
ALSO (last one, I promise):
I was featured as a guest blogger
here
. (My post is about
fundraising for adoption
. WARNING: The post features an outrageously huge picture of my face. It's frightening.)
**I would be remiss if I didn't communicate how unbelievably sad and disheartening it was to wake up to news this morning that a 10-year-old little girl who went missing last night has been found dead this morning. Prayers for the family and friends of Hailey Owens. Full story
here.