Adoption Update: One more document. One more document. We are waiting on the results of one more background check from Georgia to come in, then our home study is done. We had to resend a form, and now our agency has called the GA office numerous times with still not much of a response. I feel like I've been saying "one more document" for seven years, but it's out of my hands so I'm just going to roll with it.
Like these thugs: (weirdest/funniest picture I have of them, except maybe last year's Easter pic...)
After an impromptu garage sale last week (note pic above), we then took the boys for an impromptu first-time camping trip. Only problem: Rain. (And it continues to rain and rain and rain here...) So we enjoyed it while it lasted, cooked up a marshmallow or two, took some obligatory camping pics, threw the boys around in the tent a little bit, and then went into my parents' cabin for the night. Brad just had a feeling we should get inside and, as usual, his gut feeling was right on! It POURED and STORMED so hard that the top of the tent flew off and our pillows and sleeping were left absolutely soaked the next morning. We could have been soaked out there if not for the choice to move our party indoors. The lightning and thunder even woke us up inside the cabin. Thanks to my parents for letting us use their land and especially their cabin. The boys loved it, despite the rain!
Our view from the top. (Doesn't look like rain, does it?)
Bro helped Brad with the tent. Brecken, ever the helpful servant, enjoyed a beverage.
After the trip, we got a teeny camping chair for the boys' next trip. Hours of entertainment, right there.
Now, an update on Brecken's progress: If you've followed our story at all, you know he was born nine weeks early. Premature babies are at risk of developmental delays and/or problems, but Brecken is doing great. He isn't talking, but he is very close to walking, and his other motor development is right on track compared to other children his gestational age. The doctor told us that sometimes premature babies will develop one area more quickly than others, and that seems to be the case. He is always on the go, but he isn't really a talker...kind of like his mama. (A good and a bad trait, really, depending on how you look at it.) He is still a happy boy who loves attention, and he is developing quite a funny little personality. He loves to get in chairs and dresser drawers, putting things in his mouth, and being tackled by Brody.
And now, a series of pictures to illustrate Brecken's personality/orneriness. (He KNOWS not to put that stuff in his mouth...):
And those teeth! His upper-side teeth are pointy and came in before the middle uppers, so he's a mix between Count Dracula and Michael Strahan.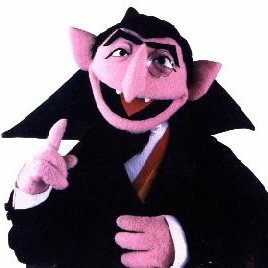 +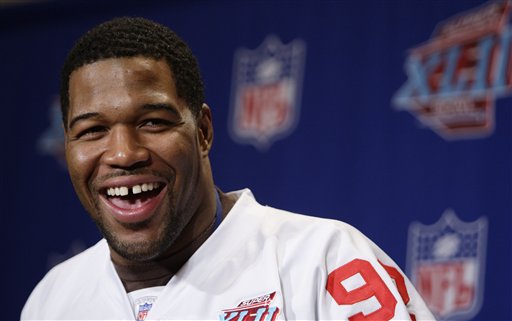 =
Oh, and the kid loves to eat. LOVES it. He easily eats more than two-year-old Brody. Easily. And he does his most happy jabbering when he eats.
Bro likes to help feed Brecken, and he's actually pretty good at it. Good thing, because Bro can feed Brecken the food he himself doesn't finish.
Other news: We have less than one week until life gets absolutely crazy, with me coaching volleyball and Brad coaching softball. Please pray for us this fall. It's going to be hard for me to miss my boys so much, and I have a feeling it will be a little stressful.
Bro showing off his new PJs, with the "reindeer" on the front.
We are enjoying a relaxing last few days of summer. Gangsta style.